Through Healthy Rewards, members can earn a prepaid Mastercard® just for getting the care they need.
We're here to make healthcare easier, more accessible—and more rewarding.
When eligible Meridian members complete certain health activities, like going to checkups, getting screenings, and more, they can earn a prepaid Mastercard.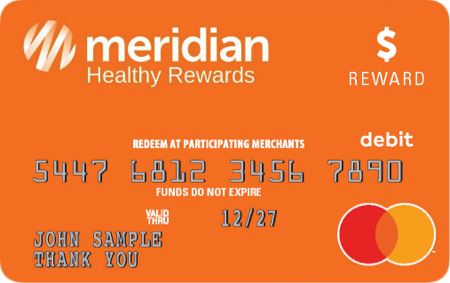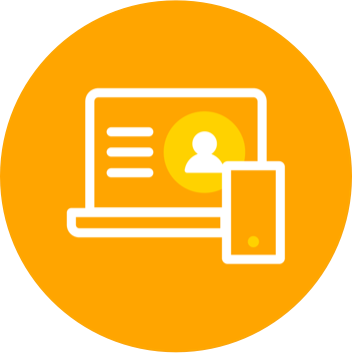 Earn rewards picked just for you.
Your health goals are unique. So are your Healthy Rewards. Log in to your Healthy Rewards portal to see all the rewards you're eligible for—and start earning today!
What you can earn
Everyone will have their own list of rewards they can earn based on their age, gender, and health needs. Some examples are below.
Remember to log in to your Healthy Rewards portal to see the rewards that have been picked for you to help you reach your health goals.


$25
Annual physical exam


$25
Chlamydia screening


$75
Immunization visits for infants


$25
Breast cancer screening


$25
Pap test


$25
Annual checkup for kids


$15
Well-child visits for infants


$25
Diabetic blood test (HbA1c) or eye exam
Moms can earn up to $100—plus baby gear.
Are you a new or expecting mom? You can earn a prepaid Mastercard and baby gear for taking care of yourself during and after your pregnancy: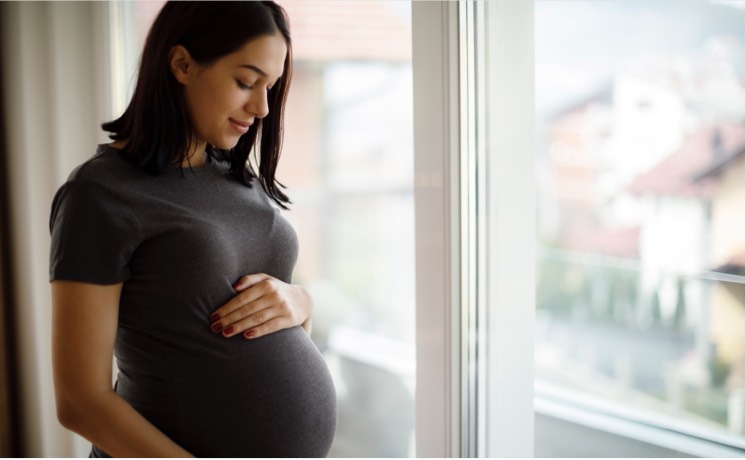 Filling out a Notification of Pregnancy form in your first trimester: $50 prepaid card ($25 if done in the second trimester)
Prenatal care visits: Your choice of baby gear sets. You can pick from one of the following:

Safe sleep survival kit (including a cribette)
High chair kit
Car seat kit
Stroller kit
Baby shower in a box

Going to prenatal and postpartum care visits: $50 prepaid card ($25 if you only go to your postpartum visit)
How it works
All Meridian members have different health needs. That's why Healthy Rewards is tailored to each member. Here's how to get your personalized list of health activities and start earning rewards:



In your portal, you'll see a list of health activities (like checkups or screenings) that were chosen just for you to help you live healthier. You may get texts, emails, or calls about these activities.
Contact your provider to get started on your list. Need help finding a provider? Use our online Provider Finder or call Member Services.
After your visit, let us know you've completed your health activity to get your Meridian Healthy Rewards prepaid Mastercard. You can choose to get a digital or physical card.
See the terms shown below for time limits to redeem cards and other conditions.
Healthy Rewards: Commonly Asked Questions
Health activities are chosen based on your age, gender, health status, and other criteria.
Reward amounts range from $15 to $75 per health activity. You can earn rewards for each health activity you complete.
Log in to your Healthy Rewards portal to learn about your reward eligibility. You may also get texts, phone calls, or mail from Meridian letting you know about rewards you're eligible for.
Please allow 30 days for a health activity to appear on your rewards page. If it doesn't, call Member Services at 866-606-3700 (TTY: 711), Monday through Friday, 8:00 a.m. to 5:00 p.m.
After you finish a health activity, you will need to provide details about your health visit or screening. This could include the date of the visit, what the visit was for, and the provider's name.
Yes. Your Care Coordinator can help you let us know when you complete your health activities so that you can get your rewards.
How long it takes to get your reward depends on if you pick a digital or physical prepaid Mastercard. If you choose a digital card, your reward will be available right away. If you choose a digital card, you will receive an email with a code and link to download an e-gift card to your wallet on your phone. If you choose the physical card, it can take up to two weeks for it to be mailed to you.
Baby gear rewards usually take about two to three weeks to arrive in the mail.
All eligible Meridian members in your family can earn their own rewards and get their own prepaid cards.
Yes. Please follow the directions that came with the card to activate it within 60 days. If you don't, you won't be able to use it.
Your prepaid Mastercard will work at any store that takes Mastercard. Please note that you will not be able to buy alcohol, tobacco, or firearms with your card.
No. Healthy Rewards is for members of the Meridian Medicaid Plan (HealthChoice Illinois).
Rewards and health actions are dependent on eligibility for specific activities, which will vary by individual. Members may not qualify for all health activities. The date of service to redeem a reward must be in the current plan year. Rewards can be redeemed up to 30 days following the conclusion of the program period.
Card/Virtual Card is issued by MetaBank®, N.A., Member FDIC, pursuant to license by Mastercard International Incorporated. Mastercard is a registered trademark, and the circles design is a trademark of Mastercard International Incorporated. No cash access or recurring payments. Card must be activated within 60 days of receipt. Funds will not be loaded onto your card until it has been activated. If a card is not activated within 60 days of receipt it will be invalid and the cardholder must call Meridian for alternative options. Card/Virtual Card cannot be used at Alcohol, Tobacco, or Firearms merchants. Card can be used at select merchants where Debit Mastercard is accepted. Virtual Card can be used at select merchants for online, phone/mail orders, or in stores that accept mobile wallet. Card/Virtual Card valid for up to 12 months upon card activation; funds do not expire and may be available after the expiration date, fees may apply. Terms and conditions apply. See Cardholder Agreement.